case-study
The Need to Tell a Better Story
When Ste. Anne's Spa approached us, it was clear that their web assets did not align with who they were. As one of the top spas in Canada, Ste. Anne's is a world-class destination with unique features like an onsite bakery, dedicated skincare line and a rich history. Their existing website, however, was several years old, rather basic, and didn't fully encapsulate or communicate the property's brand story in a modern way.
Not only did Ste. Anne's want a fresh look more befitting of their world-class reputation, but they also wanted a more engaged relationship with a web agency, one that would allow them the freedom to adapt and evolve the website over time to keep up with their agile marketing strategy and dynamic on-property experiences.
Vividly Bringing the Property to Life Online
With painstaking attention to detail and a deep understanding of their brand story, we created a website to fully immerse visitors in the Ste. Anne's Spa experience.

https://

Driving Higher Engagement and More Conversions
Following extensive consultation to map out the goals, brand identity and customer profiles of Ste. Anne's, we set to work designing a fully custom website designed to tell their story, create an emotional connection with potential guests and, ultimately to driver higher engagement, more direct bookings and and greater ecommerce revenue.
Part of these efforts involved designing a robust backend content management system (CMS) to allow the property to manage and edit content on their website from a user-friendly dashboard. Taking the time to fully understand the day-to-day needs of the property, we built a CMS that allows Ste. Anne's control over the most important dynamic website content while preserving the careful website optimization and design details that attracted them to a custom-coded website.
Following the new website launch, the results were apparent within the first month. Website visitors were spending more time on the website, exploring more pages and demonstrating greater engagement with the content on each page. The bottom line results followed suit, with a 33% increase in website conversion rate in the first month after launch.
Ultimately, Ste. Anne's now has a web presence that lives up to their reputation and fully communicates value to guests, serving as a more robust engine for driving online revenue for their business.
33
Increase in Ecommerce Conversion Rate comparing new website against old website - Feb 2020 vs. Feb 2019
38
Increase in Avg. Session Duration comparing new website against old website - Feb 2020 vs. Feb 2019
39
Decrease in Bounce Rate comparing new website against old website - Feb 2020 vs. Feb 2019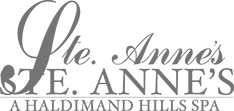 La Bellasera Hotel Suites
We gave this upscale wine-country hotel a fresh look and a more powerful direct bookings strategy
Estes Park Resort
With a beautiful new website to showcase their multi-season on-property experience, we helped this resort drive some of the strongest ad returns we've ever seen.
Overlander Mountain Lodge
We gave this jewel of the Canadian Rockies a digital makeover and a boost to their direct bookings.