blog
How to Properly Use Video on Your Hotel Website
Humans are visual creatures--especially those humans who are searching for their next vacation spot.
So it's a no-brainer that high-quality photos of your hotel are crucial to wooing guests. But equally important these days is a high-quality video of your property, which is especially effective at showcasing your value proposition and enticing travelers. Here are some things to keep in mind when considering using video on your hotel website or other online channels.
Video Tells a Story
There are two parallel mindsets at play when someone is planning a getaway: a practical one concerned with coordinating dates, getting good hotel rates and ensuring the right onsite amenities, and a fantasizing one, concerned with envisioning their future vacation experience and all of the emotions associated with it.
This latter mindset of researching and daydreaming about a trip is where travelers are most likely to be influenced and where you can use video to engage with this part of their path to purchase,
Immersing guests in the experience of your property is key here. Your hotel's website and online presence shouldn't be designed simply to convey information: it should be designed to evoke emotions and reflect the 'experience' of being at the property. Nothing achieves this better than video.
SEO Loves Video
One of the things Google's algorithm evaluates when judging how highly to rank your website is the amount of time people spend on it: the average duration of a user's 'session'.
The upside of video is that it keeps eyeballs glued to your homepage for longer and drives the average session duration up. This has a positive impact on search rankings and organic traffic over time.
This increased engagement also has a positive impact on the number of people who ultimately 'convert' to a booking. Analytics data shows us that people who spend more time on your website are more likely to complete a purchase.
Video Takes You to Greater Heights. Literally.
The best hotel videography makes ample use of drone footage. Especially if you're in a location with attractive surroundings, drone footage offers spectacular views and an elevated sense of professionalism and exclusivity in your video content.
Aerial drone footage helps to better engage viewers and hold their attention longer, which, once again, offer benefits for SEO and conversion rate.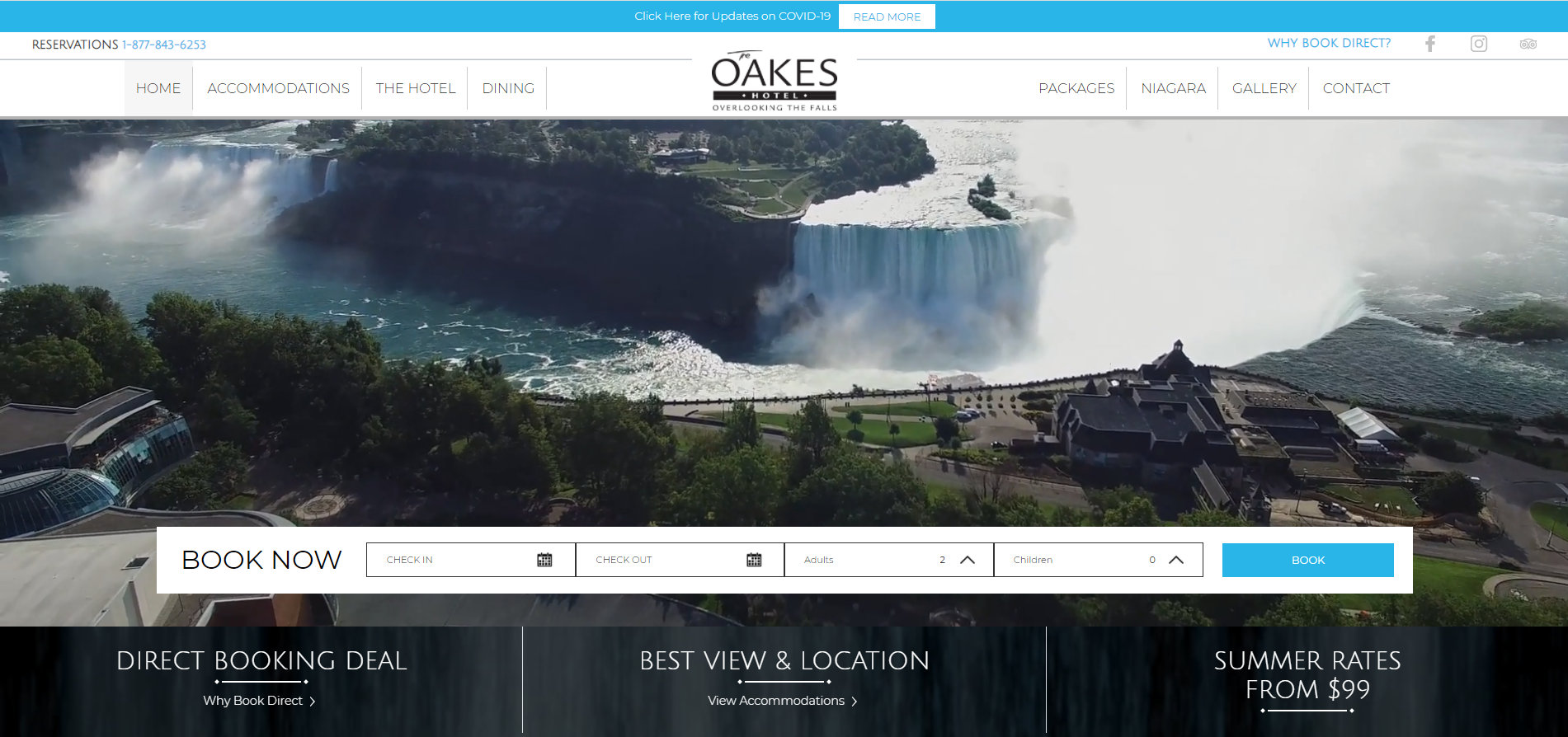 Our website for Oakes Hotel makes creative use of drone footage to wow visitors and help them envision their experience at the property.
Prepare for a Starring Role
Here at Digital Hospitality, photo and video content is an integral part of the digital marketing mix for any hotel, and something we put a lot of time and research into for our clients.
If you want to learn more about options for using photos and video creatively for your hotel, give us a call--we're always happy to offer advice and guidance, no matter what your need.
Prev Post
Next Post