blog

Back
The Wedding Business is About to Boom. Is Your Hotel Ready?
June 25, 2021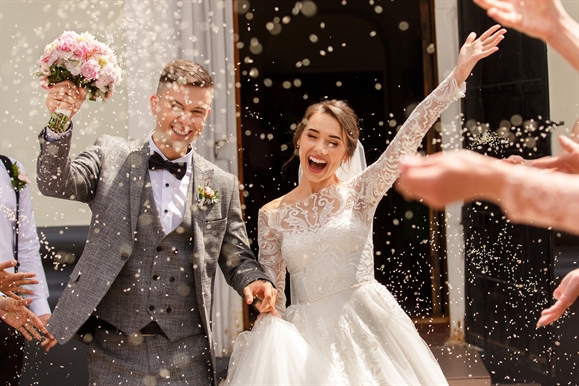 There's a lot to look forward to as things return to normal: concerts, vacations and parties to name a few. For many people, however, the number one priority in post-pandemic life will be to finally tie the knot.
For thousands of couples forced to cancel or postpone their wedding during the pandemic, the window to start planning has now reopened and experts are predicting a massive increase in weddings the over the next year.
This is, of course, great news for hotels with wedding facilities, especially after 2020 saw the wedding industry decline by 34%.
Some are saying that 2021 could be the biggest wedding year ever. So what steps can you take to start attracting wedding bookings during this massive spike in demand? Here's where to start.
Make Weddings Prominent on Your Hotel Website
If weddings are important to your hotel business, make them an important part of your website. Have an attractive page on your website devoted entirely to showcasing your wedding venue and services. Use high-quality images and videos to vividly convey the experience at your property. And use an RFP form to make it easy to inquire about booking. Here is a great example of a weddings page from one of our clients.
Also, make it easy for people to find the weddings section of your website. Find a way to incorporate it on your homepage and make links to the wedding section prominent in your navigation.
Optimize to Be Found as a Wedding Venue on Search Engines
Your hotel website might be great at attracting potential hotel guests from search engines, but unless it's also optimized to attract potential wedding guests, you might be missing out.
Talk to your digital strategist about revising the keyword and SEO strategy for the weddings portion of your website. This often requires separate research and strategy over and above what you do to be successful with hotel SEO.
Showcase Past Weddings on Your Blog
Nothing connects with people more deeply than stories. So being able to share the story of a happy couple who tied the knot at your property is a great tool for attracting more of them.
Create blog posts on your hotel website to highlight the stories and photos of some of the more notable weddings you've hosted. Just be sure to reach out to the couple for their permission and to request some nice photos to use in the post.
Get on Instagram and Pinterest
Social media is a massive part of the wedding planning process. It's the number one source of inspiration when people are envisioning their dream wedding. The more visually-oriented platforms like Instagram and Pinterest are crucial here.
Make sure your Instagram profile is well optimized. Then use it regularly to share stories and content from what's happening at your property.
Pinterest is perhaps even more important, with an estimated 40 million planning weddings on Pinterest every year. Try to amass a collection of high quality photos of weddings at your hotel and get them up on Pinterest. Be sure to include a link to your website in the photo caption. And spend some time being active on the platform, following other wedding-related accounts so that they do the same for yours.
Make Savvy Use of Digital Ads
A persuasive ad for your wedding venue, displayed to the right person at the right time could result in your next booking. Talk to your ads strategist about how to best utilize social media ads, display ads and search ads to drive traffic to your weddings page. Having good tracking set up will be crucial to monitor your return on investment from each ad campaign and optimize for the best performing segments.
Reach Out for Help
It's an exciting time for the hotel industry and many hoteliers will have a lot on their plates gearing up for big increases in travel, weddings and events in the months to come. Don't be shy about seeking outside help. Here at Digital Hospitality we have taken work off of hundreds of hoteliers' plates, helping increase business and bookings for every type of property.
Give us a shout today to talk more about what we can do for your hotel.

Back
Recent Post
July 16, 2021
Things to do
The best hotel websites make creative use of video. Here's a few things to keep in mind when considering it for your property.
May 17, 2021
Things to do
Apple's push for user privacy with its iOS 14.5 update has caused headaches for digital advertisers and drawn scorn from Facebook. How can your hotel adapt and thrive despite the changing landscape of digital ads?
Prev Post
Next Post
Let's Get Started
We look forward to hearing from you!
Message Sent
Thank you for your contacting us, we will get back to you shortly.